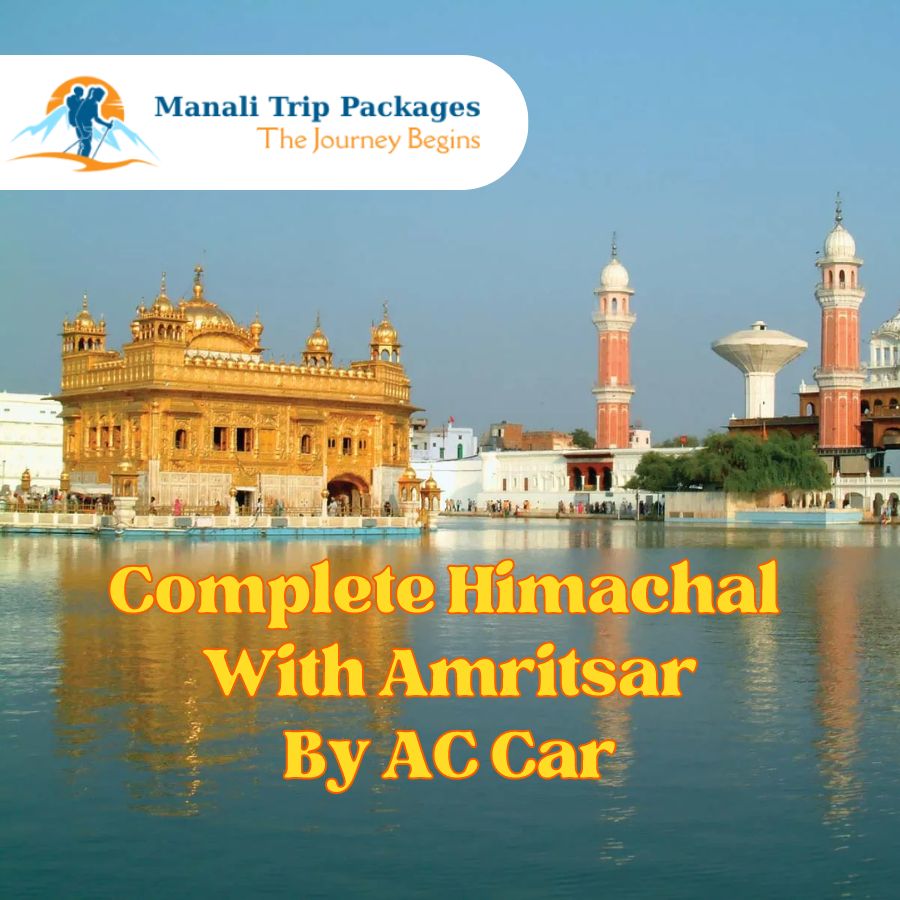 If you are looking for a wonderful destination where you and your partner can create lasting memories and seek the blessings of deities while enjoying breathtaking views, then consider embarking on a journey to Complete Himachal with Amritsar. This incredible itinerary takes you through a diverse range of destinations, each offering its own unique charm and experiences.
First Stop: Shimla
Shimla, a picturesque hill station in Himachal Pradesh, is a magnet for honeymooners due to its pleasant climate and stunning natural surroundings. Visitors from around the world flock to Shimla to revel in its snow-capped mountains and serene ambiance. Shimla's appeal lies in its romantic ambiance and the opportunity to connect with nature.
Next Up: Manali
Manali, nestled in the Himalayas, is a charming town known for its vibrant culture and natural beauty. Located north of the Kullu Valley, Manali offers something for every type of traveler. Spend three nights here exploring the mountain passes, lush hills, and ancient temples. Manali is the ideal place to unwind and escape the hustle and bustle of daily life.
Exploring Dharamshala
Dharamshala, a serene and spiritual destination, is your next stop. Home to the largest Tibetan temple outside of Tibet, this town boasts rich religious iconography and is the residence of the Dalai Lama. Take a leisurely stroll to Bhagsu Waterfall or embark on a trek to Triund for awe-inspiring views of the Himalayas. Dharamshala is a one-night stop on your journey.
Discovering Dalhousie
Dalhousie, renowned for its pleasant climate and scenic beauty, is a popular destination among honeymooners and families alike. With its charming meadows, dense forests, and cascading waterfalls, Dalhousie exudes an old-world charm. This leg of the journey requires two nights to fully explore the beautiful valleys and landscapes of Dalhousie.
Final Destination: Amritsar
Amritsar, known as the "Pool of Nectar," derives its name from the Amrit Sarovar, the holy tank surrounding the magnificent Golden Temple. This city is famous for the Golden Temple and the Wagah Border ceremony. The Golden Temple, also known as "Swarn Mandir," is a spectacular and revered place of worship that attracts people of all religions from around the world. Your visit to Amritsar will take one night.
The Complete Himachal with Amritsar itinerary spans eight nights and nine days, offering a diverse and enriching travel experience. One of its key advantages is its year-round appeal, making it suitable for any season. Be sure to book your tour to take advantage of exciting deals and offers. This journey allows you to explore the sights and sounds of Himachal while also immersing yourself in the spiritual and cultural richness of Amritsar. Enjoy the adventure!