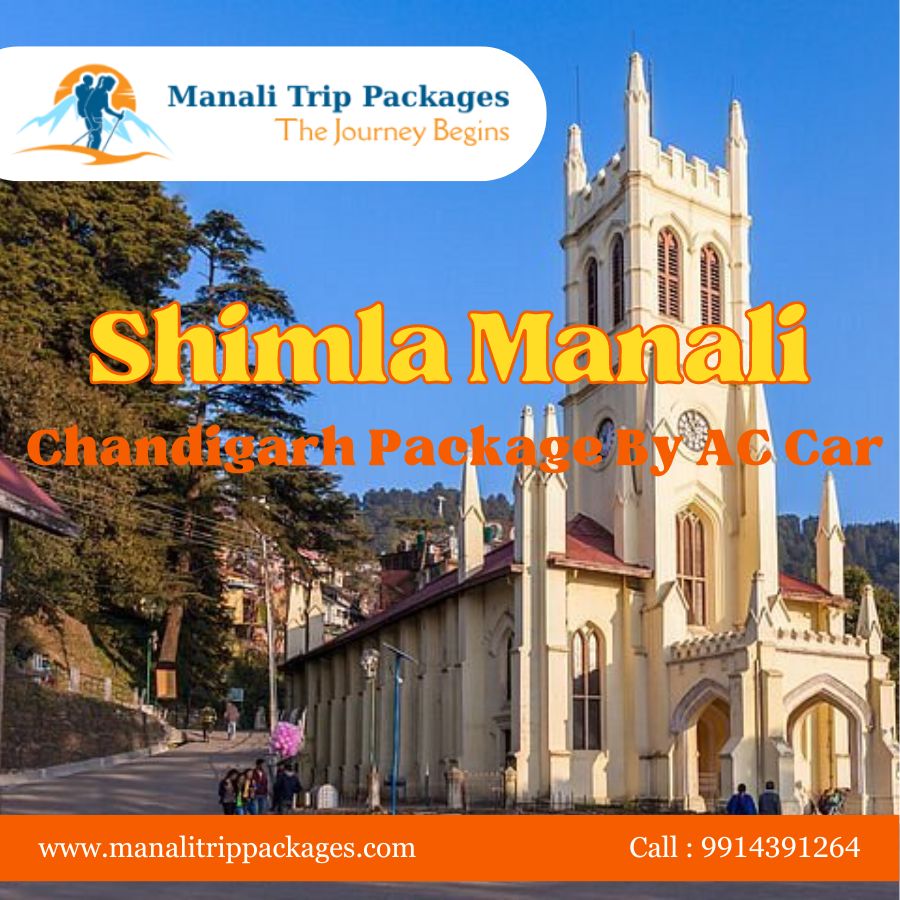 Shimla Manali Chandigarh Tour
Are you ready for an unforgettable journey through the breathtaking landscapes of North India? Look no further! Our Shimla Manali Tour Packages offers you the perfect blend of adventure, culture, and relaxation. Explore these enchanting destinations in the lap of luxury and comfort.
Shimla: The Queen of Hill Stations
Experience the Magic of Shimla
Shimla, often referred to as the "Queen of Hill Stations," is a picturesque retreat located in the Himalayan foothills. With its colonial architecture, lush greenery, and pleasant weather, Shimla promises an unforgettable experience.
Highlights:
Mall Road Delights: Stroll down the famous Mall Road, lined with shops, cafes, and local handicraft stores.
The Ridge: Enjoy panoramic views of the Himalayas and capture memories with your loved ones.
Jakhoo Temple: Seek blessings at the Jakhoo Temple, dedicated to Lord Hanuman.
Manali: Where Adventure Meets Serenity
Unleash Your Adventurous Spirit in Manali
Manali, nestled in the Kullu Valley, is a paradise for adventure seekers and nature enthusiasts alike. Surrounded by snow-capped peaks and gushing rivers, Manali offers a wide array of activities for everyone.
Highlights:
Solang Valley: Indulge in thrilling activities like paragliding, zorbing, and skiing.
Hadimba Temple: Visit the ancient Hadimba Temple, set amidst deodar forests.
Old Manali: Explore the bohemian vibes of Old Manali, dotted with cozy cafes and vibrant markets.
Chandigarh: The City Beautiful
Discover the Modern Marvels of Chandigarh
Chandigarh, the capital of Punjab and Haryana, is a well-planned city known for its modern architecture and urban design. Explore the perfect amalgamation of tradition and modernity.
Highlights:
Rock Garden: Marvel at Nek Chand's Rock Garden, a unique creation made from industrial and urban waste.
Sukhna Lake: Relax by the tranquil Sukhna Lake, an ideal spot for an evening walk.
Rose Garden: Admire the vibrant hues of the Zakir Hussain Rose Garden, Asia's largest rose garden.
Your Journey in Comfort
Our Shimla Manali Chandigarh Package by AC Car ensures that you travel in style and comfort throughout your adventure. Our well-maintained and air-conditioned cars will chauffeur you through the picturesque landscapes, making your journey as enjoyable as the destinations themselves.
Book Your Adventure Today!
Don't miss the chance to embark on this incredible journey through Shimla, Manali, and Chandigarh. Whether you're seeking adventure, relaxation, or cultural experiences, our package has it all.
Contact us now to book your Shimla Manali Chandigarh Package by AC Car and create memories that will last a lifetime.